SarcoStim - Lower Extremity Strengthening System for Fall Prevention
Includes: Device, lead wires, charger, users manual and carrying case
The SarcoStim was designed specifically to treat the increasingly popular condition of the elderly called sarcopenia.
The SarcoStim can also be used by athletes of all levels to treat muscle related ailments, injuries and even to enhance muscle endurance and strength.
Device kit Includes: Device, lead wires, charger, users manual and carrying case
Full Leg System: Includes Dual 4 x 7 Quad pad w/wrap, Dual 3 by 5 calf pad w/ wrap & 4oz spray
DESCRIPTION
Lower Extremity Strengthening System for Fall Prevention
The SarcoStim was designed specifically to treat the increasingly popular condition of the elderly called sarcopenia. Sarcopenia is the degenerative loss of skeletal muscle mass and strength associated with aging.
Strength losses with ageing for men and women are relatively similar. They are greater for lower extremity muscles rather than upper extremity muscles. Your strength peaks in your mid-twenties and declines from there. As well, the decline is precipitous after age 65, though few studies exist on this topic. A direct assessment of the effects of sarcopenia, can even be observed in the extremely physically fit and active individuals. It affects all individuals as they age.
The SarcoStim can also be used by athletes of all levels to treat muscle related ailments, injuries and even to enhance muscle endurance and strength.
The SarcoStim is an advanced electrotherapy device that works in tandem with effective and efficient silver fiber conductive therapy wraps. The treatment wraps are secured around the Quad and the Calf to help increase lower extremity strength.
The voltage regulated stimulation cycles between two different modes specific for treating muscle related conditions. One being with a monophasic wave form, a low voltage and a fixed max average current; which is used for a slightly longer therapy session. And the other being an asymmetrical biphasic waveform, and more specific to short term therapy i.e. 20- 30 minute sessions.
Silver fiber garments are also very convenient and comfortable to use.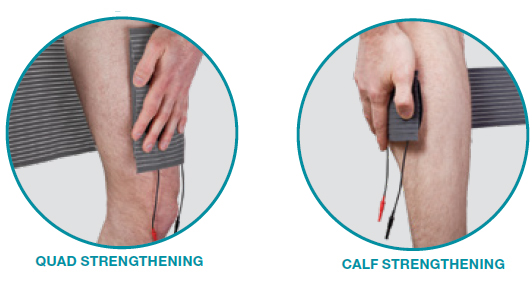 The SarcoStim is a cumulative therapy and should be a part of a therapy regimen for 3-6 months for optimal results.
In general, healthy habits-such as maintaining optimal weight, avoiding exposure to toxins, following a doctor recommended exercise program, eating a balanced diet, and correcting vitamin deficiencies can help reverse the progresses of Sarcopenia.
As a new medical device treatment option, the SarcoStim, provides a non-invasive and non-narcotic treatment to help restore muscle strength and prevent atrophy from continuing its decline.
Lower extremity weakness is a key reason for instability and balance. The SarcoStim works to strengthen the muscles in the quadricep and calf, which in turn strengthen the hip, knee, and ankle joints.
The SarcoStim has been built with comfort and convenience, as well as simplicity of use.